Jason has created dozens of religious paintings for churches, catholic schools, and private collectors. He has also done portraits and landscapes for people desiring personal gifts.
Found a piece you love, but want to add your own elements? Have something meaningful to you that you'd like Jason Jenicke to explore? Discovered a great piece only to find that it was unavailable? Looking for a particular shape and size to fit your walls?
If you are interested, Jason can work with you to create a custom piece of art that fits exactly what you are envisioning.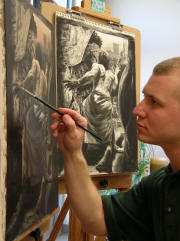 ---
Here is How it Works
1. Share
To get started, just share your ideas and contact information by completing the form below.
2. Review
We will review your request and provide you with a quote of cost and timeframe.
3. Collaborate
Moving forward, Jason Jenicke begins your commission, collaborating with you to bring your vision to life!
Commissions are final sale and typically take several months to complete the work. Commissions are begun based on Jason's availability.
If you have any questions about the process, feel free to e-mail me at jjenicke@hotmail.com.
Get the Conversation Started by Filling out the Form: