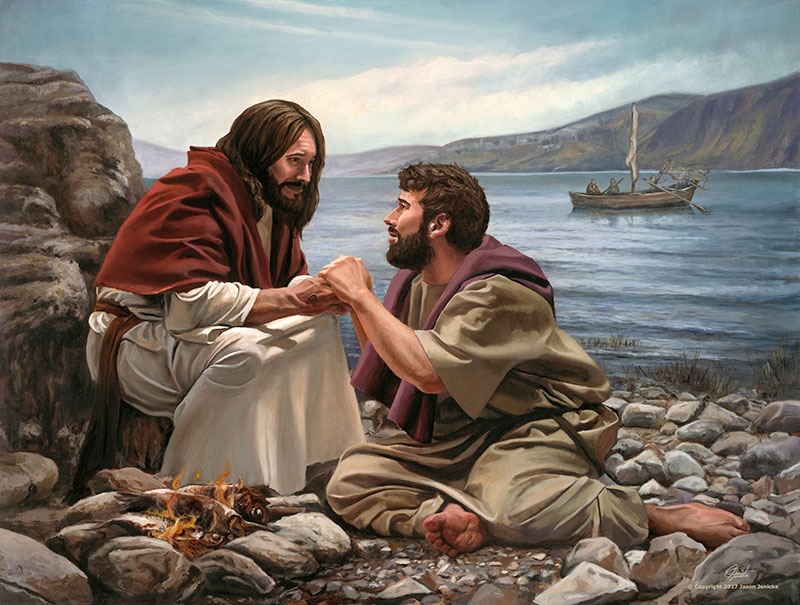 - About the Artist -
Jason has always had a passion for art.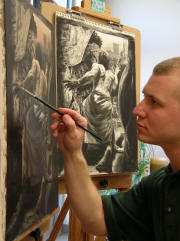 Born in Kansas City, KS, Jason began drawing as a child and grew to love and appreciate art at an early age.  Jason's art education began in high school with an extremely supportive art teacher.  He then went on to earn a Bachelors of Fine Arts with an emphasis in painting at the University of Kansas. During college, his art skills advanced in charcoal, oil painting, and sculpture. Through life drawing classes Jason further developed his talents in drawing the human figure.
While in college Jason became involved KU's Saint Lawrence Catholic Campus Center.  Through the Center, he was given the opportunity to increase his faith on an entirely new level.  Jason began participating in daily prayer and attending classes to deepen his knowledge and understanding of Catholicism.
In 2005 Jason was approached by about pursuing his dreams of being a full-time artist.  A patron funded Jason, for three years, to create oil paintings of religious scenes from the New Testament.  This collection of religious paintings is on display at St. James Academy in Lenexa, Kansas.  Jason has also created a large body of work for both private collectors and churches.
Jason looks for inspiration throughout God's creations. The human figure is at the core of his work, but wildlife and landscaping also inspire him.  Jason's goal is to find and capture life's beauty in his artwork.
Jason is married to Jennifer and together they have three children: Weston, Gwendolyn and Isaac. They live in northern Kentucky.
Catechism of the Catholic Church
"Sacred art is true and beautiful when its form corresponds to its particular vocation: evoking and glorifying, in faith and adoration, the transcendent mystery of God – the surpassing invisible beauty of truth and love visible in Christ, who 'reflects the glory of God and bears the very stamp of his nature,' in whom 'the whole fullness of deity dwells bodily.'" (Catechism of the Catholic Church, line 2501)
Awards and Memberships:
2017 St. Luke Award, People's Choice, for Pieta, at Regional Juried Christian Arts Competition and Exhibit, The Catholic Foundation, Northeast Kansas
Member of the Oil Painters of America 2010-12
Best in Show by Andre Pater for Still Running, Gallery B Spring Invitational 2011
Finalist in the Figurative Category for Scourging At the Pillar, Art Renewal Center Salon 2010-2011
Finalist in the Animal Wildlife Category for Sunset on the Hill, The Artist's Magazine 28th Annual Art Competition 2011
Publications:
Jason has been featured in several publications.  Please feel free to read the included articles to gain insight into what others are saying about his sacred artwork.